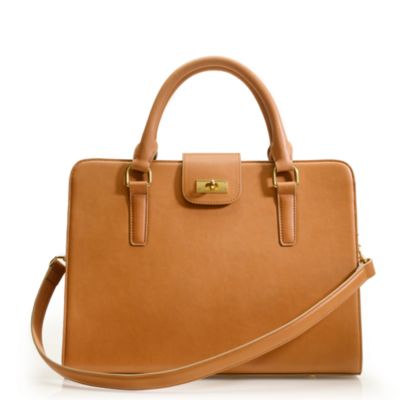 One retails for $85 (though it's faux leather), another for $288, and the third for $348. Aesthetically, though, they seem to have more similarities than differences, no?
You can't see that well on the last one (which is the Edie Attache by J. Crew), but it, too, has small chains attaching the shoulder strap to the bag. I own it in that pecan color and like it a lot, but it's not as versatile as I thought it would be--it's narrower than it looks & holds less than you might expect. The leather collects scratches, scuffs, and wrinkles like you wouldn't BELIEVE. And though I love how structured it is, it's practically a battering ram. When people run into the bag (which happens fairly often on crowded NYC sidewalks, especially since people would rather look at their phone screens than where they are going), they carom off like they've hit a wall.
Note: That last one is a pro or a con, depending on how misanthropic I'm feeling that day.
But it's hard not to love the clean, simple lines -- they're really lovely in person.
Here's a luxe version of the J.Crew one, in durable saffiano leather.