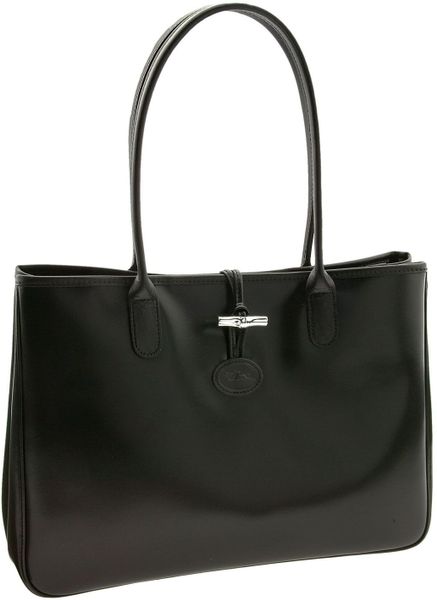 The
Longchamp roseau shoulder tote
is my go-to work tote in the fall/winter. I paid $330 (including shipping) for it on Ebay and though it is to date the most money I have ever spent on a handbag, the cost-per-wear is pennies by this point. I was enabled by my friend, who has this in silver.
It's just a simple, classic work tote that holds its shape beautifully. Two open inside pockets are handy places for keys, Metrocard, office building pass, etc...and I like the generous interior zip pocket for my wallet & phone. It's so structured that though the lining is dark, it never becomes one of those black-hole bags through which you must fumble for things helplessly.
The only cons are that the sleek black leather scuffs easily, and the snaps come undone so quickly that you need to use the bamboo toggle (which is super-pretty, if not particularly efficient) if you don't want the bag to fly open. The 8.5-inch strap drop is also long on someone my height, but I don't mind that.
I used to have this fantasy of owning one perfect bag that I could wear with everything, always, and never have to swap it out. I imagined it would be a medium-ish leather shoulder bag in some neutral shade like taupe or gray, with a single strap, that would zip shut but have some kind of outside pocket for my Metrocard. Le Tanneur's Camille bag is probably the closest I ever saw to this perfect vision, though I think it only came in orange and cream. (And oh, how I loved it in orange. I am STILL kicking myself for not buying one when I had the chance. Very, very hard. Tip for everybody: You never regret the things you buy when traveling. You only regret the things you don't buy.) Since then, I've sort of veered to the collector's mentality when it comes to bags and for a while daydreamed about collecting different sizes, shapes, and colors. Now, trying to find a middle ground.